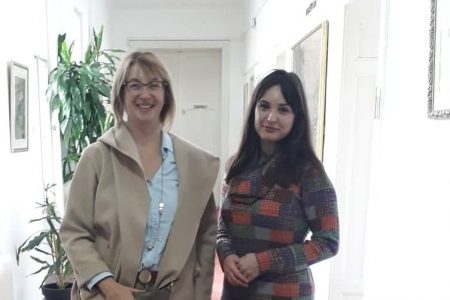 MY TRAINING MOBILITY IN BELGRADE: Jasna Bošnjović, University of Sarajevo
12. јануара 2023
Jasna Bošnjović
University of Sarajevo
Erasmus+ Mobility for Training at:
University of Arts in Belgrade, International Office
In the framework of the KA 107 project, I visited the University of Arts in Belgrade. It was my first visit to this University. I was warmly welcomed by highly professional colleagues from the Rectorate, International relations Office, Jasmina Milovanović, Head of Office and Anđela Russo, IR officer and office for finances. We discussed common topics, organisation of our Offices which are similar by the number of staff and their activities. We also raised the issue of taking into account the experience that colleagues from the University of Arts already have in the implementation and organisation of the  Erasmus + budget into already existing legislation in this field.  University of Arts IRO is putting enormous efforts in implementing various forms of international activities, including digital forms of communication. All documents were prepared and sign on beforehand, without any delay.  During my visit to the  Faculty of Music, with Vice Dean Dragana Jovanovic and IR officer Ivana Mijanovic, we mentioned long-standing cooperation on an individual basis where many professors participated in various forms of musical performances on both parties. It was nice to see that the main office at the Faculty of Music is still furnished with Bosnia and Herzegovina handcrafted furniture which was a gift back in the past – for the establishment ceremony. We agree to meet again in Sarajevo on November 25th when Vice Dean Dragana Jovanovic will participate in the concert in the city of Sarajevo.  During a meeting at the Academy of Fine Arts, welcomed by two newly appointed Vice Deans – Vice Dean for IR Svetlana Volic and Vice Dean for Finances Adam Pantić and Head of Rectorate's IRO Jasmina Milovanović, we discussed potential cooperation. The most interesting would be a transfer of know-how at the level of Doctoral Studies which is yet not implemented at the University of Sarajevo Academies of Arts. Taking into account that Vice Dean Svetlana Volic will visit colleagues in Sarajevo during December, we agreed to continue the exchange of ideas directly with Sarajevo colleagues. At the end of my visit, we met again at the Rectorate's IRO to sum up the ideas and the results of the meetings.
I found this visit very useful and successful for our future cooperation. All staff members were extremely kind and open to an exchange of ideas and know-how. Taking into account our joint history and many similarities in our higher education systems, it is important to maintain relations between staff and students of our two institutions.