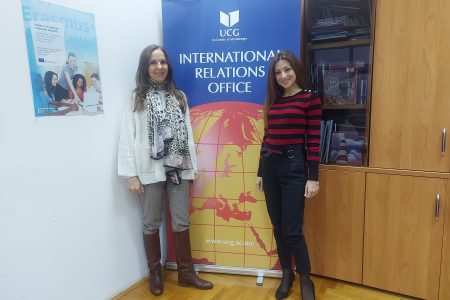 MY TRAINING MOBILITY AT UNIVERSITY OF MONTENEGRO: Marija Nikolić Radonjić, University of Arts
12. јануара 2023
Marija Nikolić Radonjić
University of Arts, Rector's Office
Erasmus+ Mobility for Training at:
University of Montenegro
Visiting the University of Montenegro (UOM) was an opportunity to get familiar with certain aspects of the work of UOM relevant for functioning the Rector's office at the University of Arts in Belgrade (UAB). During five-days training mobility, from 21-25 November 2022, the goal was to get acquainted with the activities of the Rector's Office, to learn PR and communication practices of UOM and to discuss future collaboration between UAB and the faculties of art in Cetinje. My host at the Rectorate in Podgorica was Dijana Jovanović, head of the Rector's office of UOM, who greeted me with warm hospitality. She presented to me the organizational issues, structure and infrastructure of UOM. We compare similar and different methodologies and professional procedures between UAB and UOM and learn about each other's activities in Rector's office. We gave special attention to the complexity of preparing the official university ceremonies and many standard and non-standard protocol issues.
Furthermore, I had the great pleasure to meet Tijana Kavarić, head of Communication and PR center of UOM, and her team. She was kind to present me different aspects of her everyday duties at UOM. We discussed the main challenges in PR and communication activities, with a particular focus on the significance of digital marketing and social network in promoting the activities and events of higher education institutions today. She explained to me different pillars of cooperation with print, electronic and digital media in Montenegro and the Region, comparing them with those in Serbia.
During my mobility, I was very excited to visit the Faculty of Fine Arts (FFA) and the Music Academy in Cetinje. At FFA I was welcomed and hosted by Professor Maja Šofranac, vice-dean for international cooperation. She presented me the organization of departments and introduces to me the extraordinary spacious capacities of FFA, including classrooms, ateliers, library and all other facilities that are available for students and staff. I had also the opportunity to meet Professor Marko Marković, dean of FFA and Professor Zdravko Delibašić, vice-dean for academic affairs of FFA. Together we discussed the ongoing cooperation between UAB and FFA, and especially the possibilities for organizing a summer school of the UAB in Cetinje, launching doctoral art studies at the faculties of art in Cetinje within the capacity-building project, as well as future opportunities for student and teacher exchange.
My visit to Cetinje continued by an inspirable meeting with Professor Tatjana Krkeljić, dean of Music Academy. We opened many topics about higher education in the field of music, such as specific demands of individual classes, lack of spacious capacities, research in art, conditions for electing teaching staff that are not completely adjusted to the requirements and needs of art education, and many others. Professor Tatjana Krkeljić will announce her trip to Belgrade in December, so this could be a good opportunity for her to visit the Rectorate and meet up management team of UAB in order to discuss in details on these topics.
In addition, I was delighted to meet colleagues from the International Relations Office of UOM, Ana Dragutinović, head of IRO and Nikolina Radulović, associate of IRO, who cordially organized my activities and contacts during the mobility period. We discussed about the importance of mobility programmes, their fundamental goals and impacts, as well as good practices that have been established in the partnership between UAB and UOM.
The visit to Rectorate of UOM in Podgorica and faculties of art in Cetinje was a wonderful experience with great potential for further cooperation. Besides, warm hospitality alongside beautiful places and astonishing nature of Montenegro made my mobility remarkable. From the perspective of my professional growth, this mobility was a meaningful contribution to my work at UAB.