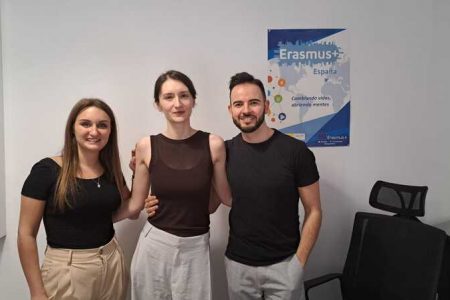 MY TRAINING MOBILITY IN GRANADA: Anđela Jovanović
21. јула 2023
Anđela Jovanović
University of Arts, Faculty of Applied Arts (FAA)
Erasmus+ Mobility for Training at:
My mobility at ESADA was an opportunity to learn more about the partner institution and establish ongoing communication with my colleague from the International Relations Office. Escuela Superior de Diseño y Arte de Andalucia (ESADA) is often chosen by students of the FAA for their Erasmus mobility. Therefore, the objectives of my visit to ESADA were to get acquainted with institution's study programmes and their PBL methodology, but also to meet their employees in person and get first-hand information, in order to better advise outgoing students when applying/leaving for mobility, and assist incoming students during their mobility at the FAA.
Upon my arrival, I was welcomed by Mr. Félix Guerrero, Erasmus+ Coordinator at ESADA. We had a long job shadowing session, during which I learned more about their mobility processes, how the work around student and staff mobility is organised, as well as digital tools they are using in their work. We exchanged experiences, good examples but also challenges of mobilities between our institutions and discussed improvement. Although ESADA is a private entity, which makes a great difference between our two institutions when it comes to work organization and decision-making processes, it inspired me to think more practically on how to improve and simplify processes at our institution.
I had a great honor to meet Mr. José Gonzáles and Ms. Carmen Gómez, the ESADA's directors. During our long talks, they explained to me why they decided to establish the institution 10 years ago, the struggles and success on this path, what is the idea behind the PBL methodology, why is mobility and development of intercultural skills important to them as well as their relationship with their students and staff. We discussed possibilities for cooperation on other ERASMUS projects, KA2 and Blended Intensive Program. I visited all of the ESADA's facilities, situated in the city centre of Granada. I was impressed with their innovative digital tools and systems applied in their everyday work and attendance tracking system.
I was lucky that during my visit, the Granada Design Week, organised by ESADA, was happening. In this week many workshops were organised, in different fields. Just some of them I visited were about basketry, cyanotype, tattoo art and drag queen makeup. The overall idea is to gather students from different departments and years of study to get to know each other and work together in a relaxed atmosphere. Moreover, they are learning useful skills that can be applied in their projects and art works. Another idea that can be implemented at the FAA!
One of my mobility days was dedicated to my presentation of the FAA and especially Graphic Design and Fashion Design departments to ESADA's students. I explained to them how the FAA is functioning, our mobility application process and presented them some of our student's works. They had a chance to ask me about study life in Belgrade, and I am positive that after my visit many of them are curious to explore our Faculty and Belgrade for their ERASMUS mobility.
I had a beautiful time discovering Granada's rich history and culture. I was mesmerized by Alhambra and enjoyed getting lost in the little streets of Albaicín. I do understand now why many students from all around the world choose to spend their mobility in Granada. Especially for a young artist, this must be an enriching experience.
This mobility helped me to meet the partner institution, get to know my colleagues, learn about different methodologies and work processes, and it gave me all the necessary information to make sure that I can give the best support to all the mobilities to be realised between the ESADA and the FAA.