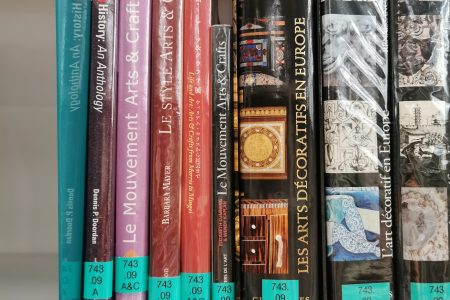 MY TRAINING MOBILITY IN SAINT-ÉTIENNE: Milica Perić
21. јула 2023
Milica Perić
University of Arts in Belgrade, Faculty of Applied Arts, Library
Erasmus+ Mobility for Training at:
Médiathèque+Matériauthèque / École Supérieure d'Art et Design de Saint-Étienne (Esadse)
I will try to write this report with a focus on all the information which could be useful for the librarian activities. But before that, I will mention a few details in the introduction part, which are in my opinion a great result of the synergy between art schools and decision-makers in cultural policy of the city and region, and they emphasize the important role of art schools in the process of valorization, development and integration of arts and design in the social, visual, economical and cultural aspects of the city and life of its citizens and visitors.
Saint-Étienne School of Art and Design is placed in the former Factory of Arms. It is located on the site in the heart of the creative district of Saint-Étienne, called Cite du design. Earlier, in 1998, Saint-Étienne art school established the International Design Biennale, and some of the work done for the Biennale, are located in the Cite du design and the whole city as urban interventions and furniture, installations and objects, which stand as statements for the fruitful integration of innovation and creativity in the city life, through art and design.
Workshops of the school are divided – workshop for metal, for wood, ceramics, photography and video sound, digital and 3D modeling, publishing and printing etc, with exceptional technology and equipment, as well as work conditions. There are also spaces for theoretical subjects, and what surprised me the most – there were spaces with small working areas for students, where each student has his/her desk with necessary equipment. It looked like a true creative hub and collaborative studio.
I had an opportunity to see the exhibition of the Esadse graduates of 2022. The name of the exhibition is Total Recall. An exhibition format and concept, done by curators, managed to put works of different esthetic, media and quality in one harmonious whole. Scenography and furniture for the exhibition is designed with a majority of reused materials, guided by eco-design logic.
Médiathèque and Matériauthèque – Library and Library of materials, are part of the school and Cite du design. They are located in one space, which has industrial esthetics, but open space, bright furniture and colorful details and also small botanical garden in the front, make the space warm and serene. Furniture is carefully chosen from different famous designers.
Médiathèque – Library is specialized in the publications for art and design, and it is open for students, researchers and broader public (everyone can borrow publications outside the Library). They have 28.000 books and 40.000 documents. Users can search for the catalogue online (there is also few computers inside the library just for that purpose). Collection has books, magazines, but also large amount of movies important for every creator – movies from artists and designers, about artists and designers, but also important movies in the history of cinema. Users can borrow them, but also watch them inside the library, as well as different contents in other media / CD, VHS…
Their working hours for users are: Tuesday to Thursday from 11 am to 6 pm, Friday from 11 am to 5 pm, and there are three librarians working (FAA Library works Monday to Friday, from 9 am to 7 pm, and there are two librarians working). Colleagues Marie-Helene Desestre, Adeline Barras and Nathalie Pin from the Library, as well as Marina Baudry from the Office for International relations, welcomed me in the nicest way and they were very cooperative and helpful. Subjects that colleagues from the Library and I shared, were about different librarian services and activities. Some which I would like to emphasize are the ones which are applicable in the context of the FAA Library, but also other libraries of the University of Arts, or could be thought as projects in the near future.
Matériauthèque – Library of materials, is a concept and space which I consider to be highly relevant for contemporary art and design practices and in that sense, it should be an inevitable part of the Faculty of Applied Arts. Library of materials in Saint Etienne, linked to the one in Lyon, offers more than 3 500 materials, divided in 9 families: concretes/minerals, wood/derivatives, composites/compounds, metals/alloys, plastics/elastomers, textiles/leather, vegetable/animal, glass/ceramic, paper/cardboard. Their approach is to offer the most innovative materials and materials which are preferably within eco-concept. They also found good economical model, where companies producing certain materials pay their memberships to be present at the Matériauthèque. There is also a virtual show-room. At the Matériauthèque students, researchers, artists and designers can find out about diverse materials, touch them, research their characteristics, see different know-how tutorials on how to use them etc. This is important in order to infuse creativity with new possibilities and ideas from the world of materials, which could transform their creative process in unexpected ways. It is also a good model on how to connect creativity and industry, and make innovative and responsible projects in the future. Library of materials could be visited only by appointment. They also have workshops for students, young people…
My mobility included visits to other libraries. I would mention here the Library of the Museum of Modern and Contemporary art, since they have a rich artists' books collection. This collection was important for me to see, since I am involved in the process of documentation and presentation of the artists' books collection at FAA, a project which is in its initial phase at the moment. I gathered here a lot of useful information about the collection – preserving artists' books, storing them, cataloguing, exhibiting and presenting online.
I would like to express my deepest gratitude to my colleagues and staff at UAB and FAA for their cooperation, and also to all the colleagues from Saint-Étienne for their hospitality and openness to help. It was a true inspiring experience, important for the motivation and enthusiasm about improving the services and working conditions at the FAA library.